Carey Molinski, MA, LPC, NCC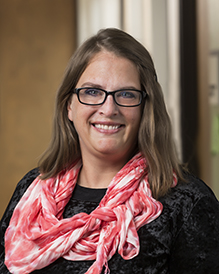 Carey has a rich history of psychotherapy skills and is a strong advocate and communicator. She is direct yet relatable, skilled yet casual. She has experience in crisis intervention and trauma and is trained in EMDR (all ages) and trauma-focused (TF) and cognitive behavioral therapy (CBT) for children and adolescents.  She has helped many clients with diverse concerns such as depression, anxiety, self-harm, suicidal ideation, oppositional behaviors, conduct disorders, Autism Spectrum, schizophrenia and other psychoses, and relationship concerns.
Viewing each therapeutic relationship as a partnership, Carey diligently works to meet clients right where they're at, without judgment, helping them to achieve their individual goals. Carey knows that relationships based on trust, genuine compassion, and honesty, create a congruency – both personally and professionally. 
Carey focuses her interactions on answering the question of "what happened to" her clients rather than "what is wrong" with them. Carey empowers her clients through a strength-based lens, helping to reframe negative experiences into islands of competence.  She uses empathy and discernment to encourage clients, helping them to heal, thus, building resilience to future problems. 
Carey primarily approaches client concerns from a meld of Cognitive-Behavioral, Existential, Person-Centered, and Trauma-Focused (TF) approaches.  She can provide EMDR therapy via in-person and telehealth sessions.  Additionally, she can provide TF-CBT services to youth under the age of 18 years (in-person appointments).  
Carey is dually licensed in Wisconsin and Colorado as a Licensed Professional Counselor.  She has experience as a clinical manager of two outpatient clinics in the greater Denver-Metro area and is thrilled to provide in-person sessions or telehealth sessions for clients in Wisconsin as well as video telehealth  (only) services to clients living in Colorado.  
Carey completed her undergraduate degree at Ripon College in Ripon, Wisconsin in psychology and speech communication. She completed her graduate degree in professional counseling from Liberty University, which also included some doctoral level coursework in addictions and addictive behaviors.
On a personal note, Carey resides in the Fox Cities (Wisconsin) area.  She spent nearly all of her life in East Central Wisconsin before a cross-country move to Colorado in August 2020 to be nearer to family.  Now, she is back!  Carey loves spending time with her two adult daughters.  Her older daughter is in graduate school to become a psychologist and her younger daughter, diagnosed on the Autism Spectrum, recently finished up her Bachelor of Fine Arts degree in Graphic Arts/Design.  We welcome them back to the Fox Cities!  
Carey is hearing impaired but does not allow this to stop her from providing therapeutic services.  She is a shining example that personal struggles do not have to limit or define you. Carey loves art and anything creative. She has known pain but has grown seeds of joy from that pain and she is eager to help you on your journey to healing and hope.